Traffic Travis is not just useful for improving and tracking the performance of your own websites. You can also use it to provide services to clients as a freelancer or as part of your own web agency or services business. Even if you presently use Traffic Travis just for your own sites, pay attention to this newsletter, as you will learn how to earn yourself some extra income on the side just by using Traffic Travis to help others.
Today we are going to look at:
The different services you might offer to clients, that can be automated with Traffic Travis.
How to market your services.
Monitoring rankings for clients.
Creating keyword analysis reports.
Adding logos and branding to the reports you create for clients.
What services can you offer using Traffic Travis?
There are a number of different services you could offer to people or businesses that can be made a lot easier and more efficient by using Traffic Travis.
These services include:
Finding keyword ideas for clients and assessing the difficulty of ranking for them.
Tracking the ranking performance of pages for particular keywords over time.
Discovering new link building opportunities for your clients.
Finding page warnings that could be holding back their website's performance.
Assessing the performance of their link building campaigns.
Providing insight about competitor's websites, including how well their sites are optimized for on page SEO, and where they are getting their backlinks from.
Note: You will have more ability to offer great service to your clients if you upgrade to the Professional version of Traffic Travis. It offers a number of benefits including the ability to create custom-branded reports, add large numbers of sites to the Dashboard, and get more detailed statistics.
Traffic Travis Professional will really help your efforts, as with Traffic Travis Free version you are limited to:
A maximum of 5 projects
No custom logos on your PDF reports
A maximum of 100 keywords
No more than 5 keywords per search in SEO Competition, Domain Research, and Keywork Research tools
Traffic Travis Pro has none of these limitations.
Creating reports & adding custom logos
One of the most useful features of Traffic Travis if you are offering services to clients is the ability to export reports as both PDF and CSV files (for use with spreadsheet tools like Microsoft Excel).
Imagine your client has requested that you find a set of keywords based around 'Labrador training'.
Let's see how easy it is to do some reasearch and then create a professional report. First you would open up Traffic Travis to the 'Research' – 'Keywords' panel, and then enter 'Labrador training' into the search box, just as in the example below.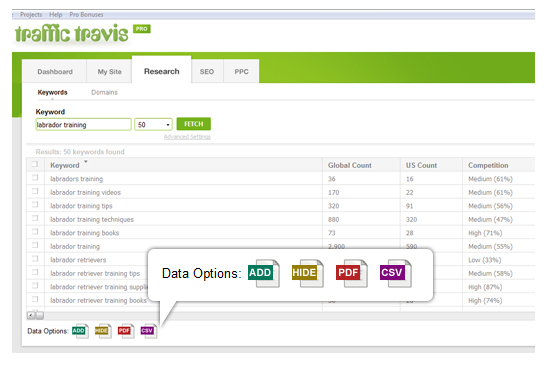 See the row of 'Data Options' along the bottom? The 'PDF' and 'CSV' buttons allow you to export your results into reports for your (or your clients) use.
The PDF file will look like this: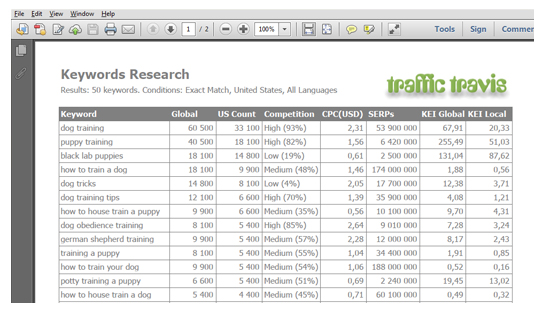 A CSV file (opened in a spreadsheet program) looks like this: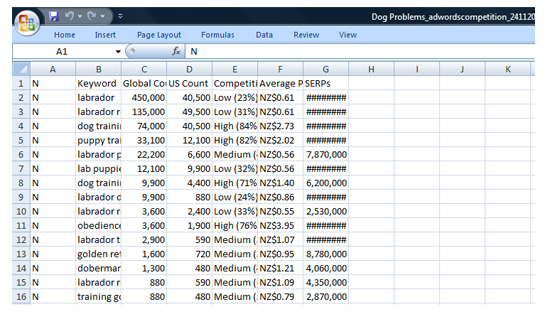 You should ask your client which file type they would prefer (or just offer both).
Tip – Branding your reports
Another trick you can perform (with Traffic Travis Pro) to help get your name out there and build a brand profile is to attach a custom logo to your reports.
Find or create an image you want to use as a brand logo for your reports. A rectangular image around 190×80 in size gives the best results.
Go to 'File' – 'Program Options' and you'll see the following screen.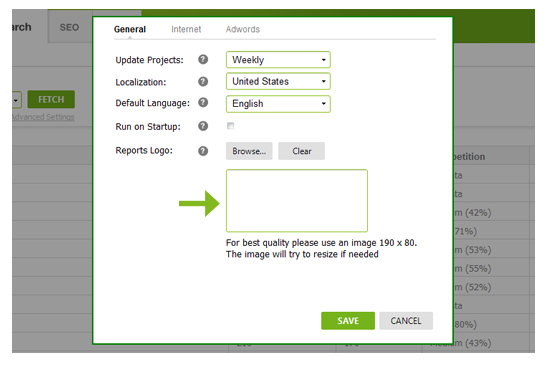 Use the 'Browse' button to find your image and import it into Traffic Travis.
After you have imported your image and clicked 'Save', go back to the keyword research tool of Traffic Travis and generate a PDF report again (just as we did before).
Here is the end result: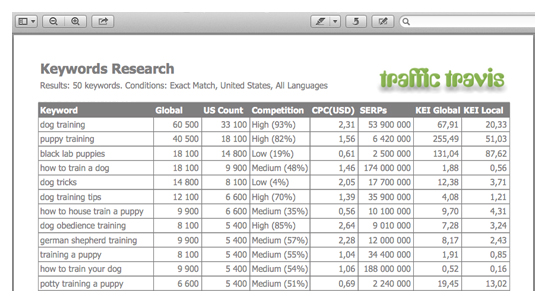 Notice the new logo in the top right corner of the screen? That is just one of the perks of having Traffic Travis Pro.
Marketing your services
Knowing how to use Traffic Travis isn't the only thing you need to know to be able to provide services to clients for a profit. You also need to know where to market your services.
One of the best places to start is a website called Fiverr.com
There are quite a few "interesting" jobs (also known as 'gigs') that people are willing to do for $5. However, you don't have to have a humorous skill or talent to profit from Fiverr. You can use it to effectively market services that you perform with Traffic Travis. Whenever someone buys one of your gigs you will receive $4, and the other $1 is split between site owner fees and Paypal fees.
You could offer all sorts of services on Fiverr.com that you perform with Traffic Travis. A couple of easy ideas to start with are:
Offering lists of 50 or 100 link opportunities based around the client's site topic (for example if their site is about Bulldog training then put 'bulldog training' into the link finder tool of Traffic Travis, filter to their location if necessary, and then generate and export the report).
Providing a report that analyzes the top 10 competitors for a particular keyword.
The key is to make sure you are able to perform the task quickly and efficiently. Because at the end of the day, on fiverr you are only earning $4 for your time. And although this might not seem like much money, if it only takes you ten minutes or less to generate a report and export it then that's $24 per hour.
Other places you can market your Traffic Travis services include:
Tip – Building up a base of clients
Create a list of clients as you go along, and build up a relationship with them. This will allow you to spend less time competing with others for clients on sites like Fiverr and more time actually making money!
You could also generate business leads for higher priced serices by offering an initial $5 job, and then upselling clients to more detailed reports and analysis. For example, offer a basic list of keywords for $5. Next, offer to provide competition and backlink reports for say $15. Just remember to check the terms of service (TOS) for any freelancing website you use to make sure you are not breaking the rules.
Monitoring rankings for your clients
A slightly more in-depth service you can provide to clients through Traffic Travis is monitoring their rankings and website progress. Do you remember from part 5 of the newsletter series that you can import sites into the Traffic Travis Dashboard and then check how they are ranking for keywords over time, numbers of backlinks, and more?
You can use Traffic Travis to monitor your clients' rankings over time. Just add their sites to the Dashboard like you would your own.
From the Dashboard you will be able to answer queries for your clients about things like:
How many pages they have indexed in Google (or other search engines).
The overall number of backlinks pointing to their website.
Google PageRank and Alexa ranking.
Where their five best backlinks come from.
Their top 5 five ranked keywords.
Basically anything you would do for your own website in Traffic Travis can be done and exported for a client.
In the next newsletter we will be looking at using the Google Adsense and PPC tools in Traffic Travis to help you generate extremely targeted traffic to your website.
Wishing you every success, 'til next time,
Traffic Travis